Texas Decon - Hoarding (OCD) Clean-up Services
"Hoarding" – Clutter impedes the functionality of the home.
Hoarding is known as an Obsessive Compulsive Disorder (OCD) where a person(s) collects an overabundance of things; be it trash, food, newspapers, animals etc. People who do not suffer from this disease do not always understand the condition. There are many dangers associated with moderate to severe hoarding:
Fire Hazard
Air Quality
Mold
High Ammonia Levels – Animal Hoarding
Fall Hazards
Rodents & Insects
Whether you or someone you know is faced with a hoarding situation, our Texas network of experienced specialist is your solution. We are not junk haulers or a janitorial cleaning service.
Texas Decon LLC has been helping families and friends remediate properties that have been neglected for various reasons. This specialized category of cleanup is more common than most believe. We routinely work discreetly with families and friends of people who have been unable to take care of their property due to physical or mental limitations. Texas Decon LLC responds discreetly to your property, never disclose any information about our services. Client confidentiality is a high priority is serving you.
Texas Decon LLC hoarding cleanup services can provide you with any or all of the following services.
Free estimates and phone consultations
Clutter organization
Detailed cleaning / disinfecting
Animal and human waste cleanup and disposal
Paperwork recovery / packing/ storing / labeling
Recovery of valuables / sentimental items
Itemized Inventories
Donation of items to the charity of your choice
Recycling – appliances / electronics / paper
Photo documentation
Storage containers
Therapist referral
For a qualified Hoarding Cleanup Specialist outside of Texas:
http://hoardingcleanup.com/
---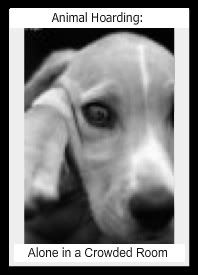 From our Welcome:
This site was created to inform and educate the public about animal hoarding.  We are not experts, but  we are a network of volunteers affected by animal hoarding, and want to share what we have learned. 
Within this site we have gathered the resources for not only the human addicts, but for their friends and family, as well as  the animals victimized.
Our hope for this site is to help you become aware of, educated about and take action against hoarding.
Follow the Animal Hoarding Blog:
From our Welcome:
This blog was created to keep you up-to-date on animal hoarding and large scale animal news and cruelty.
Because hoarding and OCD disorders often overlap, we will also list news and information related to these topics, and how these illness's affect the hoarder, their family and friends, but most of all the animals, that suffer...
"alone in a crowded room".
---
Most Important: Call Texas Decon a reputable & established
Crime Scene cleanup company statewide.
Texas Decon can assist you no matter what the problem may be. Whether it is crime or trauma scene cleanup, meth lab decontamination or any of our other services, we clean all types of personal, commercial and industrial properties.
"Call Texas Decon For Medical Waste Pick-up & Disposal Service Quotes"
Call 830-660-3149 • Austin & San Antonio Metro areas
Call 713-408-0401 • Houston Metro—Call 888-956-BIO1 or 956-778-4412 • Rio Grande Valley